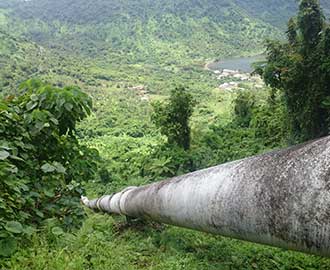 Water Storage Outlook Model
Samoa Meteorology Division, COSPPac and the Electricity Power Corporation are working together to produce a water storage outlook model. The model seeks the most efficient use of current and future water supplies, so that there is reliable and cost-effective energy supply from the Afulilo Hydropower Scheme.
The Model provides an outlook for water storage by combining:
rainfall forecasts;
recent dam level measurements; and,
projected energy generation.
This outlook will allow the Electricity Power Corporation to make better informed operational decisions over the course of the month by forewarning of possible water shortages and thereby allowing energy managers to adjust operational processes to better manage the available and forecast water resources at the reservoir.
This product is currently under development. It is expected that a prototype will be ready for testing by the Electricity Power Corporation in 2015.
This pilot project is being conducted in Samoa, in partnership with:
Ministry of Natural Resources and Environment, Samoa
Electricity Power Corporation, Samoa
For more information, email COSPPac_COMP_Unit@bom.gov.au